Tags
Related Posts
Share This
Discount store closure is sign of North Park's changing demographics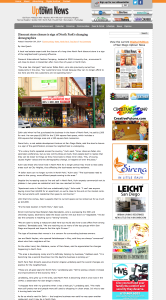 This story was reported for Uptown News on Dec. 5, 2014.
A local real estate expert said the closure of a long-time North Park discount store is a sign of the neighborhood's growing affluence.
Discount International Fashion Company, located at 3002 University Ave., announced it will close its doors in December after more than 25 years in North Park.
"The area has changed," said owner Rafee Zakir, who also previously owned two restaurants in the area. "Our customers have moved because they can no longer afford to live here and the new customers are not spending here."
Zakir said when he first purchased the business in the heart of North Park, he paid $1,200 for rent. He now pays $3,500 for the 2,344-square-foot space, which includes a 400-square-foot storage area and a 550-square-foot mezzanine.
Read the full story by clicking on the image to the right.