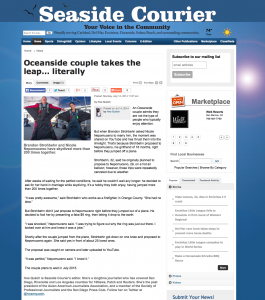 An Oceanside couple admits they are not the type of people who typically enjoy attention.
But when Brandon Strohbehn asked Nicole Nepomuceno to marry him, the moment was shared on YouTube and has thrust them into the limelight. That's because Strohbehn proposed to Nepomuceno, his girlfriend of 18 months, right before they jumped off a plane.
Strohbehn, 32, said he originally planned to propose to Nepomuceno, 29, on a hot air balloon; however, those trips were repeatedly canceled due to weather.
After weeks of waiting for the perfect conditions, he said he couldn't wait any longer: he decided to ask for her hand in marriage while skydiving. It's a hobby they both enjoy, having jumped more than 200 times together.
Read the full story by clicking on the photo to the right.
Tags
Related Posts
Share This