Share This
about hoa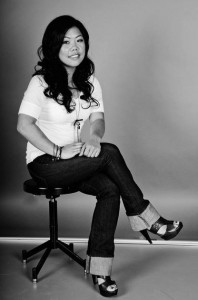 Hoa Quách Sanchez is an award-winning journalist, writer, editor and do-gooder with more than a decade of experience in online and broadcast journalism.
She got an early start in writing when her very Chinese parents and older sister forced her to read a new book each week and write a summary on it while other children spent their days watching Saved by the Bell and playing ball in the streets. Despite the indoor days of her childhood, Hoa has been able to develop social skills over time and has been fortunate to watch a few episodes of Saved by the Bell to catch up with her peers.
Of course, she has continued her writing career and has reported for news organizations such as KPBS, AOL, ABC News San Diego, Reuters and SignOnSanDiego.com. She has also edited books, coached reporters and often sits on panels relating to journalism and politics.
Aside from writing, Hoa is actively involved in her community. She founded Art Relief, an annual benefit held in Balboa Park of San Diego that supports community rebuilding efforts, and the popular "Share Your Love of Reading," a campaign that sends celebrities and politicians into local classrooms on Valentine's Day to read aloud.
She is a member of Asian American Journalists Association, Society of Professional Journalists, San Diego Press Club and the National Association of Asian American Professionals.
The majority of her work can be found on this website. Any stories posted belong to the news organization that is credited. Excerpts and links may be used, provided that full and clear credit is given to Hoa Quách Sanchez and whichever site the content is from, with appropriate and specific direction to the original content.
If you'd like to work with Hoa in any capacity, please feel free to contact her. She loves making new friends but she has yet to play ball in the streets.
*Special thanks to Jeremy Lawson for all portraits of Hoa on this website.