Tags
Related Posts
Share This
Street Angels ask public for help in serving homeless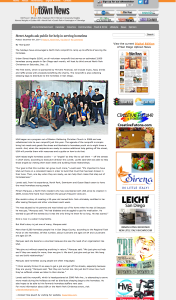 This story was reported for Uptown News on Dec. 5, 2014.
The holidays have encouraged a North Park nonprofit to ramp up its efforts of serving the homeless.
Urban Street Angels (USA), an all-volunteer nonprofit that serves an estimated 3,000 homeless young people in San Diego each month, will host its third annual North Park Christmas on Saturday, Dec. 13.
The free event, which is sponsored by Thrivent Financial, will include music, food, drinks and raffle prizes with proceeds benefiting the charity. The nonprofit is also collecting sleeping bags to distribute to the homeless in San Diego.
USA began as a program out of Mission Gathering Christian Church in 2008 and was refashioned into its own nonprofit just this year. The agenda of the nonprofit is simple: bring hot meals and goods like shoes and blankets to homeless youth six to eight times a month. And, when the recipients are ready to receive additional help getting off the street, USA will provide them with resources and a guide on how to do that.
Read the full story by clicking on the image to the right.