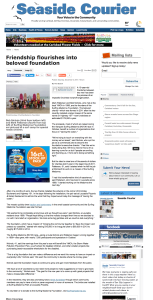 This story was reported for Seaside Courier on Dec. 6, 2014.
A 15-year-old friendship between two men has been the premise of an impactful Encinitas nonprofit organization.
Mark Patterson and Bob Nichols, who met at the local YMCA in 1999, are the founders of the Surfing Madonna Foundation. The beloved charity—which was formed in 2011 after the two covertly installed a large mosaic of the same name on Highway 101—now fundraises an estimated $175,000 a year.
The proceeds, most of which are raised during the marquee Surfing Madonna 5K/10K race in October, benefit a number of organizations that focus on "saving the ocean."
"We're trying to touch on everything with the money we've raised," said Nichols, who quit his job as a commercial pilot to become the foundation's executive director. "I feel like we're really doing that. We're so new to this so it's a learning curve for us but if people are smiling and thanking us, I think we're doing something right."
Read the full story by clicking on the image to the right or going to seasidecourier.com.
Tags
Related Posts
Share This