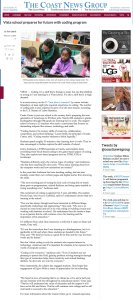 This story was reported for The Coast News on Feb. 1, 2016.
Coding. It's a skill that's foreign to many but one that children as young as 5 are learning in a Vista school. It's also a skill that's in high demand.
In a recent survey on the 25 "best jobs in America" by career website Glassdoor, at least eight jobs required experience in coding. The number of coding jobs is also expected to grow over the next decade, according to the U.S. Bureau of Labor Statistics.
Casita Center is just one school in the country that's preparing the next generation of Americans to fill those jobs. Nearly 600 students in grades kindergarten through fifth grade are learning how to code. The magnet school is home to 25 teachers who teach a curriculum that focuses on demanding subjects like science, technology and math.
Read the full story by clicking on the image to the right or going to thecoastnews.com.
Tags
Related Posts
Share This