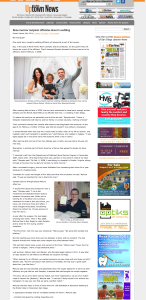 This story was reported for Uptown News on Oct. 24, 2014.
One could say a couple's wedding officiant will always be a part of the couple.
But, in the case of North Park's Kevin Zempko and Erica Wacker, it's the groom that will always be a part of the officiant. That's because Zempko donated his bone marrow to his officiant, Dianne Mahura, in 2008.
After meeting face to face in 2009, the two have maintained a close bond, enough so that Zempko and his fiancé asked Mahura to officiate their Oct. 11 wedding in San Diego.
"It means the world to me personally and to Erica as well," Zempko said. "I have a fantastic relationship with Dianne and her family. It comes naturally; nothing is forced."
Their connection started two months after Mahura was diagnosed with leukemia. At the age of 44, Mahura, a mother of three, was told she wouldn't live without a transplant.
Read the full story by clicking on the image to the right.
Tags
Related Posts
Share This