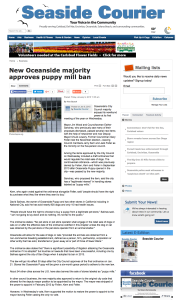 This story was reported for Seaside Courier on Jan. 9, 2015.
Oceanside's City Council majority enjoyed its newfound power at its first meeting of the year on Wednesday.
Mayor Jim Wood and Councilwoman Esther Sanchez, who previously saw many of their proposals dismissed, passed several new items with the help of newcomer and now Deputy Mayor Chuck Lowery. Former Councilman Gary Felien lost the November election—leaving Council members Jerry Kern and Jack Feller as the minority on the five-person council.
Among the items approved by the City Council on Wednesday included a draft ordinance that would regulate the retail sale of dogs. The controversial ordinance—which was previously denied by Felien, Kern and Feller in September 2013 after Oceanside Puppy opened in the city—was passed by the new majority.
Read the full story by clicking on the image to the right or going to seasidecourier.com.
Tags
Related Posts
Share This