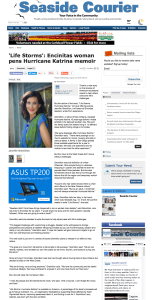 This story was reported for Seaside Courier on Aug. 19, 2015.
There's a new story on the shelves of American bookstores meant to help others overcome life's challenges.
But the author of the book, "Life Storms: Hurricane Katrina," isn't just offering advice. Jennifer Gremillion, a 45-year-old Encinitas resident, wrote from experience.
Gremillion, a native of New Orleans, escaped Hurricane Katrina 10 years ago before it made landfall in the beloved southern city. She and her family spent five weeks living in 13 different areas before finding refuge in Encinitas.
"We were displaced after Hurricane Katrina," Gremillion said. "There were postings on our church website for rooms, housing and jobs in various states. A family in San Diego posted three available apartments for a year in Encinitas. We took one apartment and my mother-in-law took the other apartment."
Read the full story by clicking on the image to the right or going to seasidecourier.com.
Tags
Related Posts
Share This