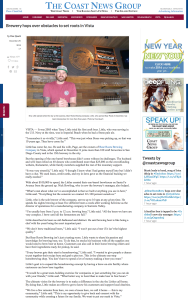 This story was reported for The Coast News on Dec. 29, 2015.
It was 2005 when Terry Little tried his first craft beer. Little, who was serving in the U.S. Navy at the time, was in Imperial Beach when he had a Stone pale ale.
"I remember it so vividly," Little said. "This was just when Stone was picking up, so that was 10 years ago. They have come far."
Read the full story by clicking on the image to the right or going to thecoastnews.com.
Tags
Related Posts
Share This