Tags
Related Posts
Share This
Solana Beach: Styrofoam ban on way to implementation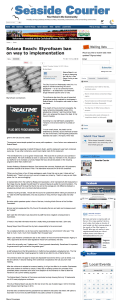 This story was reported for Seaside Courier on Oct. 15, 2015.
Solana Beach is on its way to becoming the first city in San Diego County to ban Styrofoam.
The City Council on Wednesday voted 4 to 1 to adopt an ordinance banning the use of polystyrene — or as it is commonly known, Styrofoam — at restaurants. Councilwoman Ginger Marshall cast the lone no vote.
The ordinance also bans the use of expanded polystyrene packing materials by businesses in Solana Beach. An exception was made for foam ice chests.
"This health of the environment outweighs, the really, temporary disposable nature of the polystyrene container," said Councilman Peter Zahn, who proposed the idea at the Sept. 9 City Council meeting.
Read the full story by clicking on the image to the right or going to seasidecourier.com.