This story was reported for Seaside Courier on Dec. 5, 2014.
An Encinitas resident who founded a nonprofit to support burn victims has taken her mission in life one step further with the release of her first book, "Heart of Fire."
Lesia Stockall Cartelli, who founded Angel Fa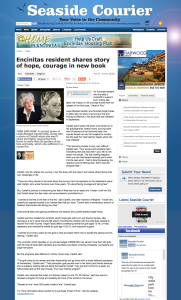 ces in 2003, tells her story of surviving a fire and finding confidence in her book that was released in September.
Cartelli was 9 years old when a fire broke out in her grandparents' Detroit home, burning more than 50 percent of her face and body. Her injuries forced her into the hospital for months but she said the "real healing" began when she was released.
"The recovery process is very, very difficult," Cartelli said. "Your whole world shatters open. Everything that was secured in your life is now blown into pieces. The real healing happens when you are discharged because you're back into the real world. I had to face the teasing, the rejection and the feeling that I didn't look like anybody else."
Read the full story by clicking on the image to the right.
Tags
Related Posts
Share This