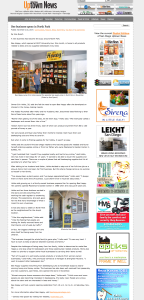 This story was reported for Uptown News on Nov. 21, 2014.
A new business has become the buzz around North Park.
Bee Happy, which opened at 2637 University Ave. this month, is home to all products related to bees and any supplies beekeepers may need.
Owner Erin Holko, 35, said she felt the need to open Bee Happy after she developed an interest in the honey-making insects.
The hobby flourished after Holko and her husband, Ben, discovered bees flocking to their Serra Mesa home about five years ago.
Read the full story by clicking on the image to the right.
Tags
Related Posts
Share This