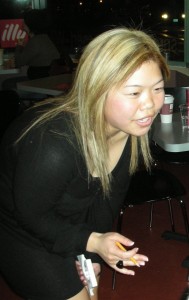 It took about 23 years for me to accept my curly hair.
As a child, I had the normal, straight, silky Asian girl locks. It was during my earlier years (and far too early for me to fully enjoy it), but plenty of photos testify that I indeed, at some point, looked like a normal Asian girl.
As I grew, my hair became a blistering mess.
I remember a time when I was frustrated that parts of my hair stuck up. With my Type A personality, I decided to chop the pieces that got in my way. I ended up giving myself a minor buzz cut and wore the large '90s-style headband for weeks.
Then high school came. Still not knowing how to do my 'do, I went through an extra strong gel phase. Tubs of gel filled my teenage years as I donned the crunchy hair look and begged my mom to splurge to take me to get my hair permanently straightened. My mom, believing in natural beauty and frugal spending, said no each time … sometimes before I'd finished asking the question.
And there were questions asked of me too. People often asked me whether I was full Chinese and Vietnamese because they've never seen someone with my locks before.
"Yes," I'd say. "I am full Chinese and Vietnamese."
It didn't help that I've always had a curvy body, too—something else that's "abnormal" for an Asian girl.
"But you have an ass," a guy once said to me (classy I know).
"I know," I said. "But no, I'm not mixed. I'm full Chinese and Vietnamese."
Finally, college came (big, deep breath). Freedom. With a part-time job under my workin' girl belt, I spent the dinero to get my locks straightened and touched up as often as possible. I went through my phases with this too—from brown to light brown to blonde with highlights and all. I slowly killed my hair as I worked toward completing my higher education.
A few days after graduation, I gave my curls the break they deserved. I realized with a more than full-time job in hand, I could no longer afford to spend the a.m. hours flat-ironing my hair to typical Asian girl perfection. Instead, I spent a couple hours researching products that worked best for my hair and discovered which would keep my curls engaged without the crunchy-hair look.
I was 23, and it was the first time I accepted my hair for what it is—large, bouncy curls—far from "normal" and definitely far from "perfect," but it was (big, deep breath) finally free.
As I think about this time almost four years ago, I'm dumbfounded by the amount of hours I invested into destroying my hair, and ultimately, my being. I recall the mornings I woke up at 5 a.m. to spend an hour burning my hair and the smell of smoke that came scorching out of the flat iron. Or the late night hair appointments as I sat under the salon hair dryer with foil piled on top of my poor head and charging hundreds on the Amex. I'm amazed at how hard I tried to fit in to this image of the silky-locks Asian woman—how I allowed stereotypes to define beauty.
Moreover, I think about how acceptance is far less time-consuming than denial. I think about the hours I spend investing into noteworthy endeavors like teaching my niece the moonwalk or organizing a Rolling Readers fundraiser.
Now at 26, days away from the Big 2-7, I admit I still relish the time I get my hair did, but I no longer feel pressure from within to fit into this mold. In fact, as I spend no more than 10 minutes on my hair each morning, I know there is no such mold. We're all different.
The difference in me is just a little more noticeable, and you know, a little more frizzy.
Tags
Related Posts
Share This