Tags
Related Posts
Share This
Passion earns Carlsbad teacher regional honor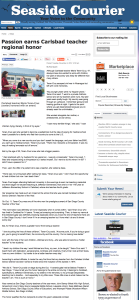 This story was reported for Seaside Courier on Nov. 4, 2014.

Although Carlsbad teacher Maria Teran-Cruz, 47, always knew she wanted to work with children, her path of discovery was likely far different than many others.
Teran-Cruz escaped civil war in Nicaragua but left with vivid memories.
"My younger years were my happier years," Teran-Cruz said. "I went to a private Catholic school and all my teachers were nuns. My later years were pretty tough. My country was going through an upheaval. I remember going to bed hearing gunfire at night. It gets to the point where you get desensitized because you've already seen the unthinkable…"
She worked alongside her mother, a phlebotomist, at war clinics.
"I saw many terrible things," she said. "I saw children dying, literally, in front of my eyes."
Read the full story by clicking on the image to the right.