Tags
Related Posts
Share This
Dad becomes author with help of autistic son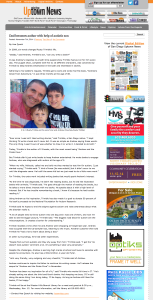 This story was reported for Uptown News on Nov. 7, 2014.
In 2009, six words changed Rusty Trimble's life.
"Daddy," said Andrew, Trimble's son, "can you write a book?"
It was Andrew's response to a bath-time puppet show Trimble had put on for him every day. The puppet show, complete with five to 10 different characters, was conceived by Trimble to keep Andrew entertained in the bath and interested in stories.
Adhering to his toddler's request, Trimble got to work and wrote his first book, "Andrew's Great Train Adventure," in just three months at the age of 38.
Read the full story at sduptownnews.com.