Tags
Related Posts
Share This
Next for Wood: Change the Oceanside City Council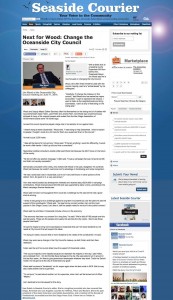 This story was reported for Seaside Courier on June 18, 2014.
With a failed shot at unseating county Supervisor Bill Horn behind him, Oceanside Mayor Jim Wood says he is now focused on changing the City Council.
Wood, who often finds himself at odds with the council majority, said he's "embarrassed" by his colleagues.
"Hopefully, I'll change the makeup on this council," said Wood who has served as mayor since 2004. "I want to represent the citizens. I want to listen to the neighborhoods and bring businesses. I can't do any of that being on the losing side."
Read the full story by clicking on the photo to the right.